"nine-sum sorcery" Album Launch
LABOUR feat. Hani Mojtahedy
SL001

LABOUR are very pleased to announce their first LP featuring the renowned vocalist Hani Mojtahedy, available on vinyl, digital and streaming.

This 30-minute epic features traditional vocals - sung in both Kurdish and Farsi - within a long-form composition rich in digital sound synthesis, swelling noise, percussion and disembodied vocal processing, completed with stunning visuals by Enes Güç, Zeynep Schilling and Evelyn Bencicova.

nine-sum sorcery is presented as a lament, and can be understood as an occult incitation to the dark energies, natural, political and otherwise, that are released when oil is extracted from the ground.


"Dust is the real nomadic entity. It migrates elsewhere, spiriting itself away an illusive ground. When dust particles are composed, they combine countless terms, lanuages and materials belonging to entirely different kingdoms."
Cyclonopedia: Complicity with Anonymous Materials

nine-sum sorcery debuted at Berlin Atonal's main stage in August of 2019 and draws inspiration from Sohrab Sepehri's modern poetry and Reza Negarastani's theory-fiction book titled, Cyclonopedia which imagines oil as a sentient being. nine-sum sorcery's epic structure situates three traditional songs in alternation with three distinct audio-visual chapters; the songs are sung in Farsi and Kurdish and the a/v chapters unfold under the following titles: The Wheel, Cyclone and Xerodrome.

During the verses, the enigmatic electronic music of HATAM provides the base for the masterful and emotive vocals interpretations by Mojtahedy. The onstage musicians operate jointly as sorceresses, conjuring massive eruptions of sculptural digital sound, voice and percussion, giving rise to the monumental audio-visual chapters, of which the visuals unfold in recurring form: original graphic illustrations of specific occult imagery give way to journeying 3D animation videos which are abstract yet evocative, finally arriving in the final section of disembodied digital voice and epic transcendence.
They lay deep, under the pressure of thousands of tons of earth and rock. Prehistoric organic matter accumulated beneath the ground. Pure energy that the earth had repressed down from a specific form to raw black energy juice.
Cyclone
Oil is an object of desire and the means of destruction. Narrative organiser, lubricant. A pipeline crawler. Holly water. Hydrocarbon corpse-juice. Gives energy and destroys. Everything is connected, beneath the ground.

Dust is a real nomadic entity, it migrates elsewhere, spiriting itself away as an illusive ground. When dust particles are composed, they combine countless terms, languages and materials belonging to entirely different kingdoms.
'Work_In_Progress' by Evelyn Bencicova and Enes Güç has been exhibited as part of 'NEW VIEWINGS' a project of Barbara Thumm Galerie in Berlin. Curated by Philipp Bollmann.

There is a lot I can say and so many meanings i find in this project but I genuinely hope that everyone can find their own. Here is the text that was written beautifully by the curator for the work.

The motionless figure of an androgynous giantess occupies almost the entire gallery space in its entangled posture. On its body and around it, small scaffolding grows upwards. But the construction site is deserted. Only the figure, which resembles an avatar, remains in a calm state. A state of "being in between". Between day and night. Between dream and reality or even between life and death? It almost seems as if the figure is still being brought back to life.

One is inclined to think of Mary Shelley, whose novel character Victor Frankenstein created an artificial human being 200 years ago - in a time of great upheaval and discovery. Today we are once again at a historic turning point in technology. Is that what Evelyn Bencicova and Enes Güç are alluding to here?

Or are they even illustrating a creation of the "Self-image"? The construction of the persona for external perception has advanced to a mania that was only enabled by the possibilities of the digital world. We use our extended abilities to make ourselves appear larger than we presumably are. The oversize of the figure is a testament to this. And the scaffolding becomes a metaphor for the process of construction, work in progress. How will it develop? To what extent can it grow?

These questions cannot be answered. Like the figure itself, we as recipients also remain in an intermediate stage. Somewhere between fiction and reality, the visible and the invisible and what we think to know and what we can imagine.
(Philipp Bollmann)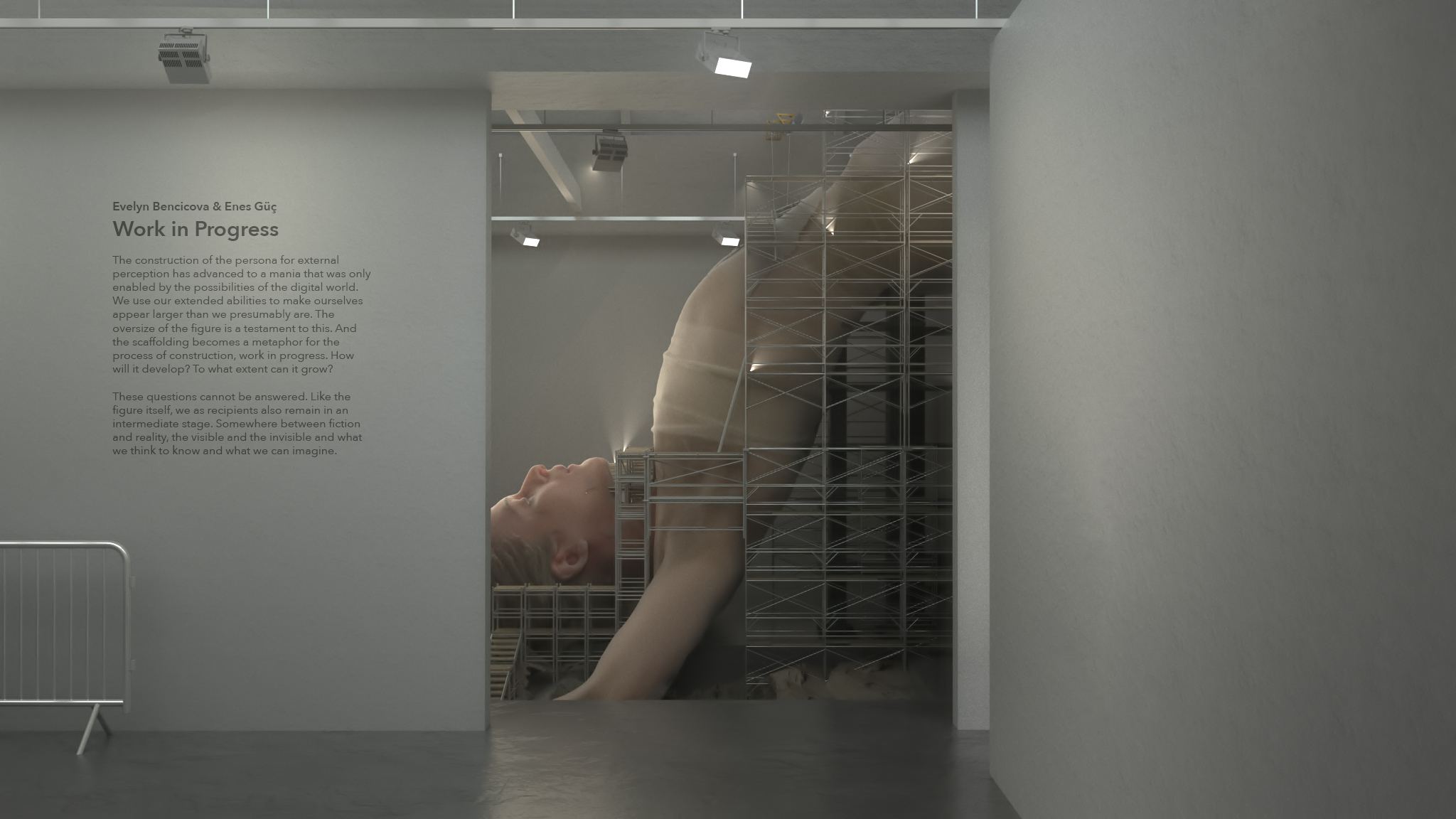 Before these difficult times we were living in such conditions where we had no time to think or to digest all the inputs we were getting from every side we looked. While trying to be productive we were running constantly without having a clear idea where we were actually going.
It was so often that I used to think that I must transform myself into something to become someone because everything was changing so fast and so drastically that I always felt behind. I saw so many people doing so much stuff that was so in the time and seemed so fashionable. Not to point any fingers, I tried it myself and I also failed horribly because of my personal ideals that I have been building.

Even though i tried to resist, at some point I've realised that i was not myself anymore. I felt like I was becoming a clone and I was getting more and more away from myself while chasing the promised lands where there is no gravity that could raise me above.

After everything stoped I suddenly found myself in an empty space where I could not even remember my own voice. Then it all came back to me and i started to go back to my roots which is actually classical painting. So now I'm working on these 3D painting series that will be telling the stories of my own personal transformations. And maybe even ours.

Tale of Succession is the first of them and it is about questions that most of us ask who wants to become somebody.

It's about going for things as well as questioning the steps, decisions that we are making and and possible outcomes that we might be fearing.

It's about prices to pay and consequences to face.

Do we really need to alter ourselves to become someone to get and stay in the illusion of success?