Welcome to the Saint Dilara Beach Club, the first NFT Island of your summer dreams which was created in colobration with Dilara Findikoglu and Zeynep Schilling so there is a place that you can exist in peace.

It is a place, on the way to Golden Fleece, where the sun shines in a glamorous silver, where the days are so long that you can live in an endless summer breeze and where the nights are only for joyful dreams.

Climb the stairs, touch to the source and find out about the meaning of your life.

Sound by Studio LABOUR
Overlooking to the world turning to other direction with the sculpture from Saint Dilara Beach Club.

In the future when Saint Dilara Island will be discovered again, this female icon will remind them of a place that was once ruled by female power.

The Trees
Feeling the breeze with there specially designed trees at Saint Dilara Beach Club.
These unique trees of the Island have the power to create windy shadows five times more breezy than your average tree during hot summer days.

Getting loose on this custom designed sunbed at Saint Dilara Beach Club.
This item was designed to find the perfect environment and product to sleep while doing astral projection.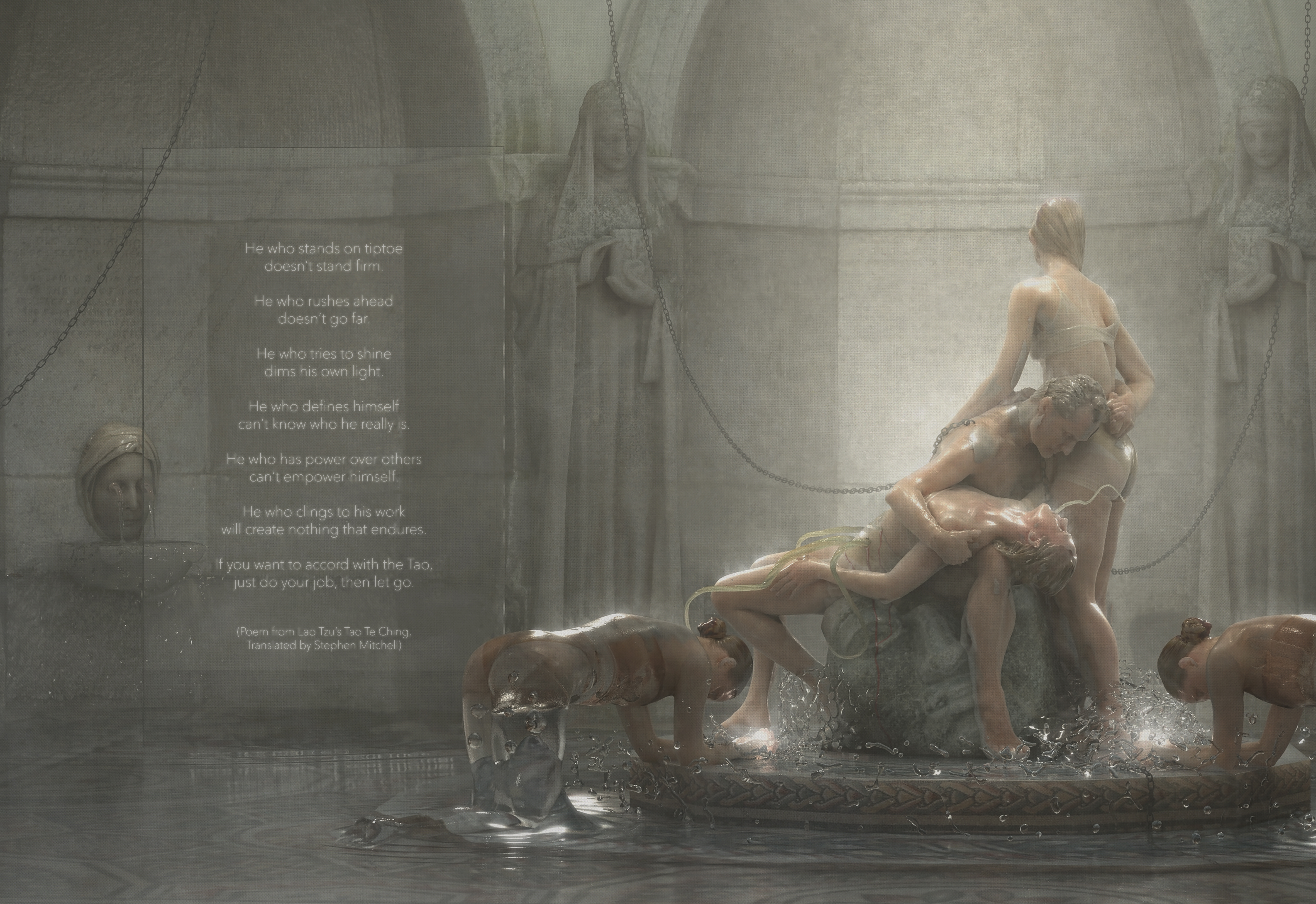 So many of our wishes and dreams as well as our fears are being implemented to us by others while we are ignoring our own deeply buried parts and running away from them. It is difficult to accept these shattered pieces of ourselves and even harder to make big changes to be able to own them. Although as long as we take the "steps", we grow to be ourselves.

All the little things piling up on each other seems to be impossible to deal with sometimes. Specially in times when they are combined with all of our insecurities.

But healing also starts after we take these little steps and accept the fact that we all are in a constant progress.
And after learning how to respect others progress I started to learn to respect to my own. Cheers to becoming ourselves.
Tale Of Letting go is the second 3D painting from the series of "The Tales".

The 3D scans are from the shooting for Tanec Praha with Evelyn Bencicova.
Composed in Autodesk Maya and rendered with Solidangle Arnold












Before these difficult times we were living in such conditions where we had no time to think or to digest all the inputs we were getting from every side we looked. While trying to be productive we were running constantly without having a clear idea where we were actually going.
It was so often that I used to think that I must transform myself into something to become someone because everything was changing so fast and so drastically that I always felt behind. I saw so many people doing so much stuff that was so in the time and seemed so fashionable. Not to point any fingers, I tried it myself and I also failed horribly because of my personal ideals that I have been building.

Even though i tried to resist, at some point I've realised that i was not myself anymore. I felt like I was becoming a clone and I was getting more and more away from myself while chasing the promised lands where there is no gravity that could raise me above.

After everything stoped I suddenly found myself in an empty space where I could not even remember my own voice. Then it all came back to me and i started to go back to my roots which is actually classical painting. So now I'm working on these 3D painting series that will be telling the stories of my own personal transformations. And maybe even ours.

Tale of Succession is the first of them and it is about questions that most of us ask who wants to become somebody.

It's about going for things as well as questioning the steps, decisions that we are making and and possible outcomes that we might be fearing.

It's about prices to pay and consequences to face.

Do we really need to alter ourselves to become someone to get and stay in the illusion of success?







'Work_In_Progress' by Evelyn Bencicova and Enes Güç has been exhibited as part of 'NEW VIEWINGS' a project of Barbara Thumm Galerie in Berlin. Curated by Philipp Bollmann.

There is a lot I can say and so many meanings i find in this project but I genuinely hope that everyone can find their own. Here is the text that was written beautifully by the curator for the work.

The motionless figure of an androgynous giantess occupies almost the entire gallery space in its entangled posture. On its body and around it, small scaffolding grows upwards. But the construction site is deserted. Only the figure, which resembles an avatar, remains in a calm state. A state of "being in between". Between day and night. Between dream and reality or even between life and death? It almost seems as if the figure is still being brought back to life.

One is inclined to think of Mary Shelley, whose novel character Victor Frankenstein created an artificial human being 200 years ago - in a time of great upheaval and discovery. Today we are once again at a historic turning point in technology. Is that what Evelyn Bencicova and Enes Güç are alluding to here?

Or are they even illustrating a creation of the "Self-image"? The construction of the persona for external perception has advanced to a mania that was only enabled by the possibilities of the digital world. We use our extended abilities to make ourselves appear larger than we presumably are. The oversize of the figure is a testament to this. And the scaffolding becomes a metaphor for the process of construction, work in progress. How will it develop? To what extent can it grow?

These questions cannot be answered. Like the figure itself, we as recipients also remain in an intermediate stage. Somewhere between fiction and reality, the visible and the invisible and what we think to know and what we can imagine.
(Philipp Bollmann)